11 Days Southern Circuit Immersive Safari for 2 Persons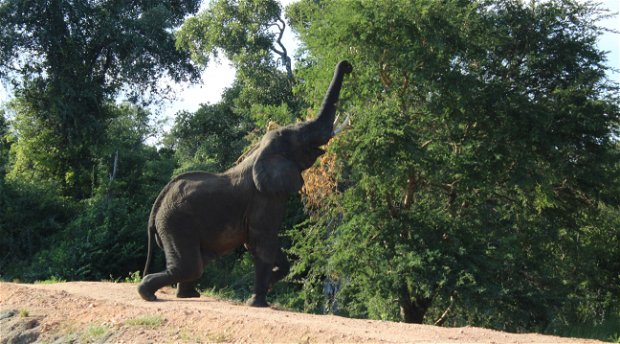 This 11 days' adventure takes you across the southern circuit of Zambia, to all the great wildlife destinations, including the Lower Zambezi, Kafue and Mosi-au-Tunya National Parks and concludes with the Victoria Falls with its adrenaline activities. You will stay in lodges close to the rivers and this safari is relaxed yet action-packed. The locations are strategically chosen for you to see most of Zambia's natural wonders. You will be accommodated at the rustic yet charming Mukuyu River Camp in Lower Zambezi; Old Palm Tree Safari Lodge by the Kafue River & Musungwa Safari Lodge by Lake Itezhi-tezhi both in Kafue National Park and finally at Royal Sichango Village in Livingstone.
Itinerary
Day 1: Transfer to Lower Zambezi, Mukuyu River Camp
Today our representative will meet you at the airport (or your hotel) in Lusaka and we will take you to the enchanting Lower Zambezi. This safari wonderland is home to some of the best game viewing in Southern Africa. You will check in to Mukuyu River Camp, a rustic riverside camp. Mukuyu River camp is a family-run camp on the banks of the Zambezi River.
Day 2:Full Day Game Drive
Today we embark on a full day game drive of the Lower Zambezi. The National Park hosts the Big 4, that is lion, elephant, leopard and buffalo and various beautiful animals such as zebra and antelope species. Bird watchers will also see their needs met. We return to Mukuyu River Camp for a nice evening meal.
Day 3: Canoe Safari & Sunset Game Cruise on the Zambezi River
After a bush breakfast and you will embark on a thrilling two hours' canoe safari on the Zambezi river. Exploring the nature and wildlife from the vantage point of a canoe is magic. In the late afternoon we will go on a Isika Island game cruise of the Zambezi River.
Day 4: Chongwe Falls Hiking Tour and Drive in Game Management Area
We will take a drive to Chongwe and hike the mountain, tour Chongwe Falls and later go on a game drive in the Game Management Area. Last lunch at Mukuyu River Camp.
After lunch we transfer to Chirundu town for and night stop and dinner.
Day 5: Transfer to Kafue National Park, Old Palm Tree Safari Lodge.
After breakfast you will depart for a 7 hour transfer to Kafue National Park. Here you will stay at Old Palm Tree Safari Lodge for the next two nights. The Kafue is an exciting national park and it's known for its abundant wildlife and the Kafue River, which runs the park. This is a whole day transfer with lunch taken en-route. We expect to arrive in the late afternoons.
Day 6: Kafue National Park Morning Game Drive
Today after breakfast we will embark on our Kafue adventure safari. Come with us on a game drive. The game drive will last 3 hours and it should be noted that Kafue is filled with wild animals, from lions and leopards in the north to large herds of elephant in the south.
After Lunch, we will visit and witness mother nature's wonders by visiting the Mabiya hot spring and then proceed to Mpamba Historical Rock for picnic and sunset view. Historically, the Mpamba Rock was a lookout spot for enemies for Chief Kaingu. The rock provides a nice aerial view of the Kafue National Park.
Day 7: Kafue River Boat Cruise & Musungwa Safari Lodge Transfer
After breakfast you will go on a boat safari cruise as a farewell activity and depart for Musungwa Safari Lodge near Lake Itezhi-tezhi.
After checking in and settling in your chalet, you will have lunch and some rest. At 3pm, you will go on an evening game drive and return in time for dinner.
Day 8: Morning Game Drive, Traditional Village Tour & Sunset Boat Safari
Your day will start very early (04:00 hours) in the morning, as this is the best time to see the elusive animals of the Kafue National Park, especially Lion and Leopard. Starting our Game Drive, we will visit waterholes and lookout points in the search of animals that you might want to see. We will stop at refreshment whilst on this drive. The morning game drive will last 3 hours and we will return to the lodge in time for breakfast. We will then visit a local village and Hot Water Spring before heading back to the lodge for lunch.
After Lunch and some rest, we will go on a sunset boat safari which will last about 2 hours. This safari will be on Lake Itezhi-tezhi which was constructed on the Kafue river for electricity generation purposes.
Day 9: Transfer to Livingstone, Royal Sichango Village
After checking in, you will have lunch and a short rest to prepare for first activity in Livingstone. Sunset Boat Cruise on the mighty Zambezi River will be the first welcoming activity.
Day 10: Mosi-au-Tunya Park and Victoria Falls Tour
After breakfast you will visit Mosi-oa-Tunya National Park where you will take a game drive and a nature Rhino walk in the company of an armed Wildlife Scout. The game drive and rhino will last about 3 hours.
After lunch, you will embark on a resonating 3 hours Victoria Falls Tour for a natural revelation second to none. You will also visit the Victoria Falls Bridge and witness the various activities on the bridge including viewing the famous boiling point of the Victoria Falls.
Day 11: Livingstone
Today you can select any optional activity before your transfer to Harry Mwaanga Nkumbula International Airport.  It's also possible to arrange many other activities such as White water Rafting, lion walk, Livingstone Island tour (Devil's Pool); Canoe Safari; Victoria Falls Bridge Activities (Bungee Jump, Abseil, Gorge Swing) and many more.